Puget Sound Commodore Users Group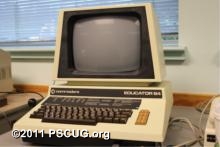 Whether your interests are games, productivity suites like GEOS, hardware hacking, or getting together to reminisce about some of the best, most interesting 8-bit computers, come to a meeting and leave knowing you're not alone. We've got a lot of ideas and dreams for these electronic playgrounds that Commodore created.
About Us
The Puget Sound Commodore Users Group was founded by Dave Frazer in early 2011 as a sister club of the Portland Commodore Users Group (PDXCUG), located in Portland, Oregon, to facilitate its members located in the Seattle, WA area.
Both clubs are active, hands-on groups where members are invited to bring their own computers and tinker with, hack, play on, or share whatever Commodore computers are of interest to them.